Per what our portal convened suggests that the biggest opposition political party, the National Democratic Congress has announced that its going to have a mega Press Conference tomorrow, Monday June 21st, 2021.
Details of what they will be talking not made known yet, but many have read meaning into the event.
According to Opera News Report, the Communication officer of the party, lawyer Sammy Gyamfi briefed his followers on Facebook and also the official NDC page also announced and shared the notice.
The press briefing is slated at 10:00 am prompt and will be covered by all major media houses across the country.
The National Democratic Congress has been having frequent press briefing for the past months following their woeful defeat in the 2020 general elections. In this article, we predict at least two things to expect from the press conference tomorrow.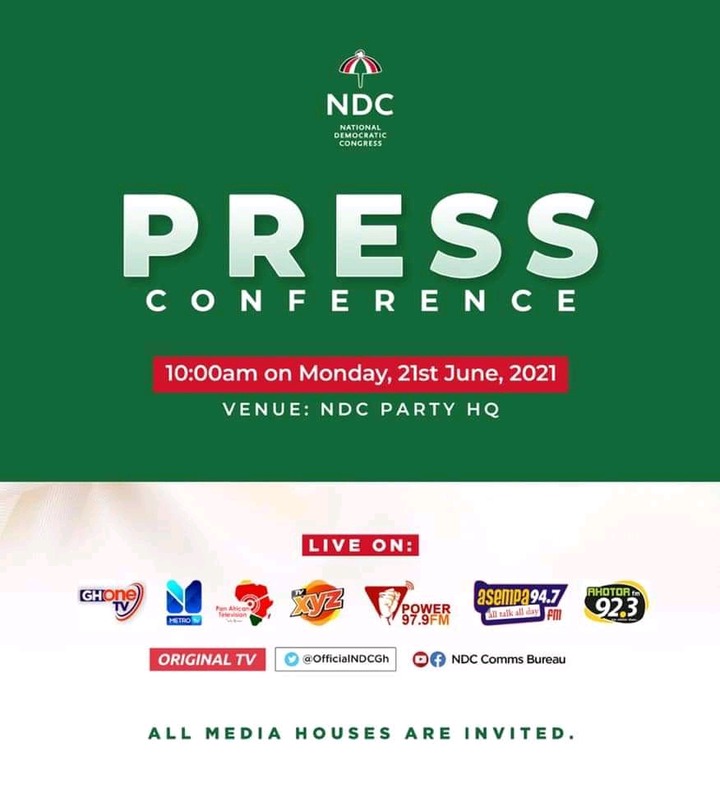 1. The presidential jet brouhaha
Following the journey of president Akufo Addo to France in a plush jet and back, the National Democratic Congress have reacted negatively towards the journey because the president refused to use the presidential jet available but spent more than £15,000 per hour to rent a private jet for the journey.
When questioned by Samuel Okudzeto Ablakwa at the parliament, the defence, Dominic Nitiwul revealed that the presidential jet was not comfortable for the president.
This raised massive debate on social media with some saying it doesn't matter if only it's for the safety of the president. Also, others have also expressed dissatisfaction over the issue and explained that it is waste of taxpayers' money. So we expect the National Democratic Congress to fire hard on this topic tomorrow.
2. The middleman brouhaha.
The National Democratic Congress also attacked the NPP government on a deal to secure sputnik v vaccine with middleman for $19 instead of the usual $10 per does
The NDC think that the government's purchase of $3.4 million doses of the vaccine after it received initial 16,000 doses from middlemen. Tomorrow, we will see Sammy Gyamfi uncovering lies and deception of the New Patriotic Party government. Stay tuned.