If the fundamentals are weak, the exchange rate will expose you (Dr. Bawumia). Currently the Nana Addo led administration has been exposed, by the own words of Dr. Mahamudu Bawumia in 2014. The government has been exposed big time by the exchange rate and this cannot be hidden anymore. Right now, the fundamentals are very weak. Mahama has always held the view prior to 2020 that the fundamentals were very weak but the government supported by the Finance Ministry had been borrowing to cover up this mess. Mahama predicted that in a matter of time, the whole situation will be known by Ghanaians and by that time, there would be nothing to conceal.
Today, an international and worldwide media outlet, BBC has broken the sad economic news about Ghana to the world.
"Ghana Central Bank plans emergency meeting after currency slump". The famous media outlet described the cedi depreciation as a "currency slump". This should tell Ghanaians who are refusing to see the truth by blinding their eyes with political colors, the gravitas of the issue we are dealing with. A currency slump announced by this famous media outlet could mean only one thing; a massive capital outflow from the country which further weakens the economic plight we see ourselves in now.
The media outlet also announced that the central bank, the Bank of all Banks, the Bank for the Government, is set to hold an emergency meeting to discuss and propose some urgent immediate solution to save this country.
One thing to know is that the government is not in charge of the cedi and the quantity of money in circulation in the system. It is rather the Central Bank of Ghana. The Government is only in charge of fiscal policies whiles the central bank deals with monetary policy. The two combines and work hand in hand to produce the best of results.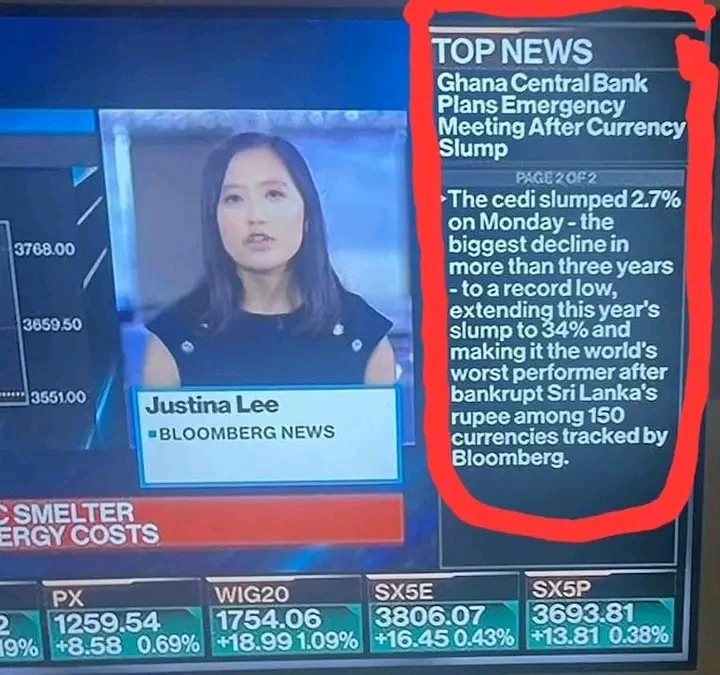 Content created and supplied by: Gentle.Blogger (via Opera News )