Per what BROADCASTGHANA has gathered, it appears the electoral commission entirely is going on leave.
The Electoral Commission in a letter signed and released by Dr. Bossman Asare has announced that the Electoral Commission is embarking on leave and expected to resume work next year.
Ghana went to the polls on December 7th, 2020 to elect both a president and parliamentarians for the eighth parliament and republic.
Though the EC has declared Nana Akufo-Addo as the winner of the 2020 elections, the opposition NDC is yet to accept defeat claiming there was mass rigging in the election to favor the NPP.
With issues pertaining to the good people of Guan not been able to cast votes for their Parliamentary candidates among many other complaints from the NDC, some thought the EC would have addressed all these problems before the eight parliaments are sworn in.
But the Jean Mensah's led EC has taken a seat back saying that after a successful election, the EC is also taking some time off for some rest.
But Ghanaians have expressed mixed reactions to the conduct of the EC as they embark on leave.
Some include not addressing the Guan Constituency Issue properly, not promoting peace and calm among the NDC, and claims temporal staff who were hired for the elections haven't been paid.
The funny part of the letter is they wished every Ghanaian a Merry Christmas and new year.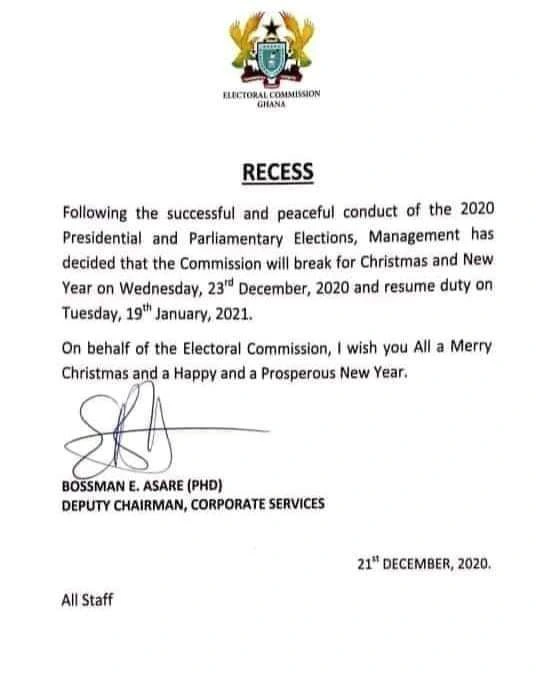 How will Asiedu Nketiah and Sammy Gyamfi take this,lol.
See mixed reactions here.